Premier Aquatics owner advises Sir David Attenborough
Runcorn aquarium owner is advisor on Sir David Attenborough's new BBC 1 nature epic The Mating Game.
Steve Chester, who owns an aquarium at The Heath Business and Technical Park in Runcorn, has supplied tropical fish for BBC1's epic new nature series The Mating Game presented by Sir David Attenborough.
The fascinating documentary series, fronted by legendary presenter Sir David, reveals the romantic life of different species as he explores the animal kingdom's dating scene and how creatures from ostriches in Namibia to giant pandas in China find the perfect partner.
For the fourth episode of the five-part series, to be broadcast on Sunday, October 24th, The Mating Game wanted to investigate the breeding patterns of one of the world's most unusual species of freshwater fish, the South American Copella arnoldi (or splash tetra) but needed some expert help. And this is where Steve was approached by researchers.
A former Head Keeper at Chester Zoo's Aquarium before he opened his new fish enterprise, Premier Aquatics, at The Heath last year, Steve says: " I have a long history with this species and the BBC researchers found an old news piece about me breeding them when I worked at Blue Planet Aquarium in Ellesmere Port around 2013-2014. They reached out to me last year to supply the fish for filming and to act as a consultant to make the fish happy enough to want to breed, and to setup the tanks for filming the breeding process.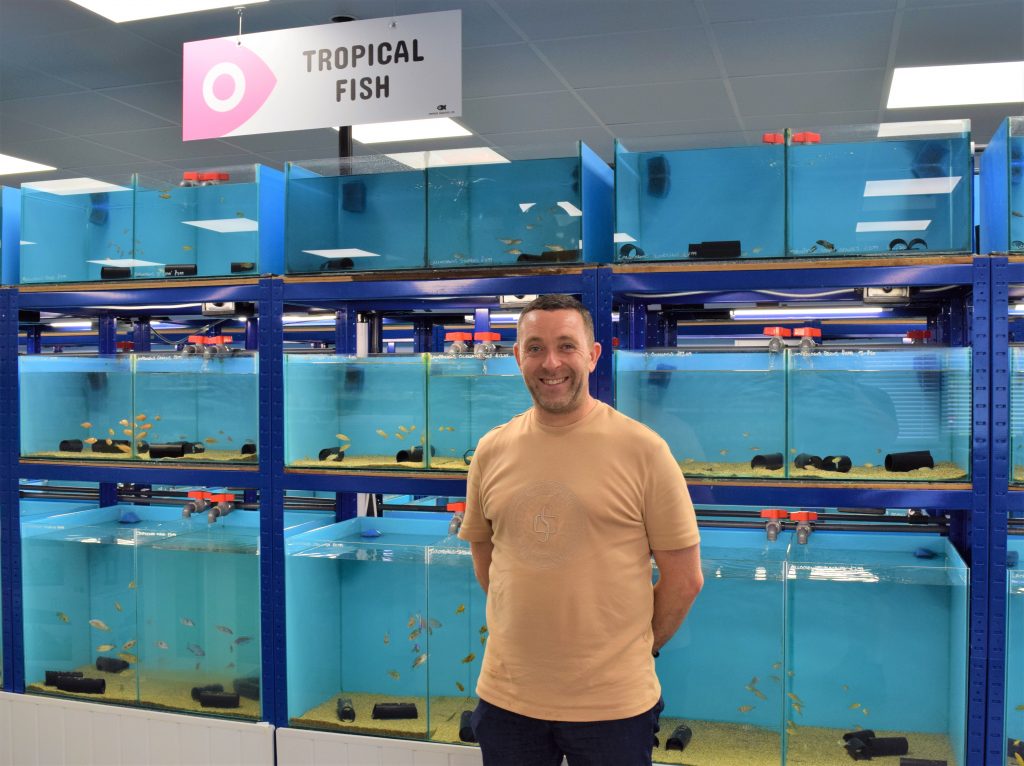 "I have seen clips of the results and they are outstanding! The Mating Game is another of the BBC's extraordinary nature programmes and it is fantastic for me to have the opportunity to be involved, albeit behinds the scenes, of a series presented by the great Sir David Attenborough."
Steve adds: "The episode on October 24th focuses on unusual breeding behaviour in Freshwater. I think there are several fish species filmed but I was asked to supply one specific fish species from South America that actually lays its eggs out of the water. It then proceeds to splash the eggs to keep them moist until hatching 48 hours later. This is virtually a unique breeding strategy and absolutely fascinating to watch.
It was amazing to be behind the scenes to get an idea of how these dramatic programmes are put together. We set up our aquariums to monitor the breeding process and the results the viewers will see are quite incredible."

Sir David Attenborough says of The Mating Game: "I hope viewers will take away the overwhelming truth, which is how unbelievably ungraspable the variety of the natural world is, what governs the animal world, and what governs the way in which animals behave. It shows the natural world at its most spectacular."
Steve, who lives in Runcorn, started collecting tropical fish as a hobby and has seen his pastime turn into a dream career which has now led to an exciting business enterprise revolving around his fondness for exotic fish. The former construction worker forged a new career ten years ago after successfully applying to an advert for an aquarium assistant which he spotted in one of the many fish magazines he purchases each month. Suddenly the hobby he started to follow as a child led to him becoming an assistant at one of the UK's largest aquariums, Blue Planet. He then spent five years at Chester Zoo before opening his Premier Aquatics business at The Heath where he keeps over 18,000 exotic fish in 150 aquariums.
For more information visit www.premieraquatics.co.uk
Runcorn: October 14th, 2021

About The Heath
The Heath Business and Technical Park is a phenomenal regeneration success story. Formed in 2000, its owner and operator, SOG Ltd, has transformed a once single occupancy corporate facility into a thriving independent business park. The Heath now provides office and laboratory accommodation for around 120 individual organisations, ranging from business services and IT specialists to those at the cutting edge of science, research and advanced manufacturing. The Heath supports around 2,000 jobs. For further information, telephone 01928 515988 or visit www.theheath.com
Issued on behalf of The Heath Business and Technical Park,
Runcorn, Cheshire, WA7 4QX – Part of the SOG Group
Media contact: The Heath: Paul Smith Associates (PSA) 07771 623 007
E-mail: paul@paulsmithassociates.co.uk